We had a bountiful reaping from the apple orchard and decided that in addition to apple prints and we could make some applesauce! So we washed, peeled and chopped up the apples and cooked them down with a a little cinnamon. The school smelled WONDERFUL! Instead of using the applesauce to eat, we chose to then take the process one step further and make applesauce cinnamon fragrant ornaments. We measured ingredients, stirred and rolled out the dough and cut out shapes that baked at a low temperature. The process was very fun and sensory stimulating. These "everyday practical activities" like cooking and baking have many advantages for children. They address the child's basic desire to feel competent, to be independent, and to work in community while teaching about order and sequence, helping to develop muscular coordination, hand/eye coordination, and they also provide an opportunity for concentrated purposeful work. I also loved that as we were making the ornaments, the kids thought that it would be very nice to make one for each of the other classrooms and as a thank you to the firefighters that came to visit our school. I am extremely impressed with their generosity. We have been learning a poem about apples that the MWF children will recite on Friday when we have the first of several Meetings for Sharing. At this Meeting, the children will also present their gift ornaments to the other teachers.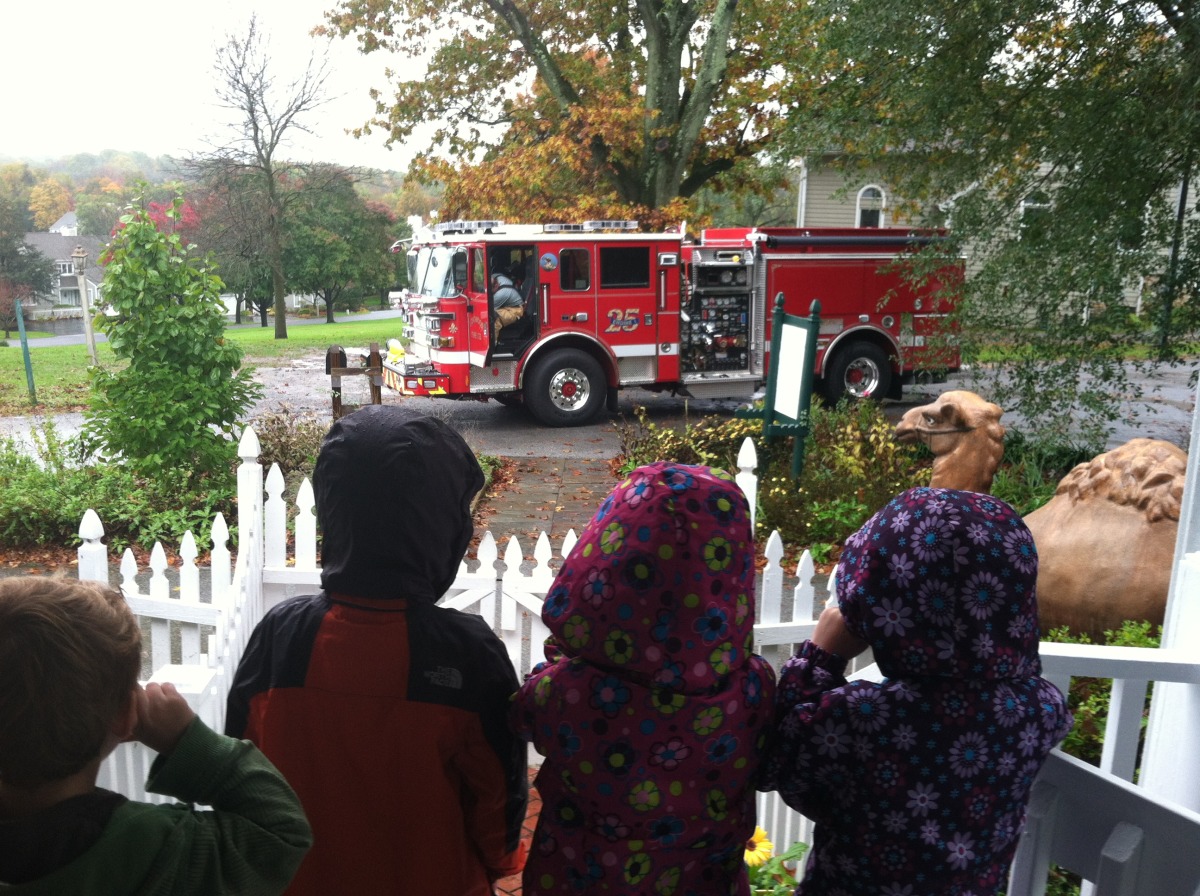 The Longwood Fire Company does a wonderful job when they come out to talk to the children about fire safety. The children were delighted to see their special equipment and breathing apparatus and MOST excited about visiting the fire truck. Some of the kids made fire hats and others made fire hoses to show the firefighters. And of course the firefighters made a big deal about their efforts. It was really cute! Please ask your children about the visit. They learned about calling 911, remembering to Stop, Drop and Roll, getting the firefighters attention instead of hiding even if you are scared and a big one is practicing your exit plan from your home in case of an emergency or fire. The firefighters asked the children how many of them know their own addresses (in case they had to call 911) and not many of them did of course. The firefighters reminded us that for young children, its a good idea to have the address posted near the phone for this reason. It's always best to be prepared.
Or little legs are getting stronger and more competent on the bike path! We are taking as many opportunities as possible to enjoy bicycling. Please continue to send a helmet or pick one up for us to keep here at school. Thanks!!!