September was busy and my little Firefly Friends are adjusting to a new school year. We spent the first few weeks learning a new school routine. The children enjoyed several Circle Time games designed to learn each other's names. The Name Challenge was the culmination; I asked the children to hide their eyes and I picked one child to hide behind a blanket, then the children could open their eyes and guess who was missing. The children loved this game and we quickly had to make the game harder by hiding two people at a time! We ended the game with silliness by hiding everyone under the blanket at the same time. The giggles and smiles as we all hid under the blanket brought a sense of unity within our class.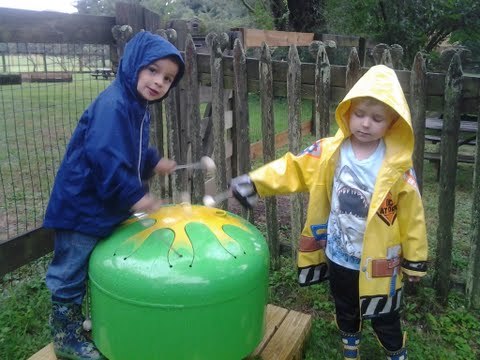 September has also been about setting the stage for the rest of the year. The Tools of our Classroom has been a topic at circle time. Each tool has a job and a story to tell. We learn or review how to use each tool and sing a little song to help us remember. We spend a lot of time in the beginning of the year with Tools of our Classroom to promote independence, build self confidence, and work on fine motor skills. As a result, the Fireflies respect and learn how to take care of our classroom materials.
The Peace Garden is a new addition to Fairville this year. Teachers and children are both enjoying this new place to explore and learn that peace is more than being quiet or saying I'm sorry. Our introduction to the Peace Garden began with celebrating International Peace Day. The second week of school, we mixed cement, poured the cement into a mold and decorated stepping stones to be a part of the walkway that leads into the Peace Garden. Each class made a stepping stone and we held Meeting for Worship in the Peace Garden to share each classes' creation. Since then the Fireflies visit the garden several times a week. Before we go in, we spend a few moments to relax; I ask the kids to raise their hands over their heads and breathe out as they bring their hands down to their sides. This simple action tells the children the Peace Garden is a special place and our bodies are calmer as we walk across the stepping stones. The children love the wooden amadinda, the wrench xylophone and the propane tank drum. New benches arrived for the children to relax on and the outdoor easel is popular as well. In the center of the garden are several discovery boxes, where the children can build, investigate and create with natural materials.
I am looking forward to continuing our Friendship Bracelet activity this week. This project began as a fine motor activity as we cut up straws to make "beads" that will be part of our bracelets. We are currently sorting all the different colors of straws, next we will sit together as a group, each with our own container of beads that contain only one color. As the children put the beads on their pipe cleaner bracelet, each child will have to ask another child a different bead if they would like to make a multicolored bracelet. Pictures will follow later this week…