The Kindergarten classroom was abuzz with activity in late November and December. We welcomed seven teacher applicants into the class to teach sample lessons. All of the candidates were very friendly and demonstrated their skills and talent for working with young children. Near the end of December we hired our new Kindergarten teacher, Susan Holland, and invited her to spend the last three days of school with us. Susan and I planned a three-day mini-unit on bread to make those three days both fun and engaging. We baked cinnamon bread, taught the children about the properties of yeast, and then shared our delicious bread with the rest of the classes. Susan read several bread-related stories (Walter the Baker, The Gingerbread Boy, The Gingerbread Baby) and then we complemented the reading and baking activities with literacy and math activities. It was a wonderful way to end my temporary teaching assignment in the Kindergarten! I am delighted that Susan will be here full time beginning in January and happy that I will still have the opportunity to teach each morning during the language arts block.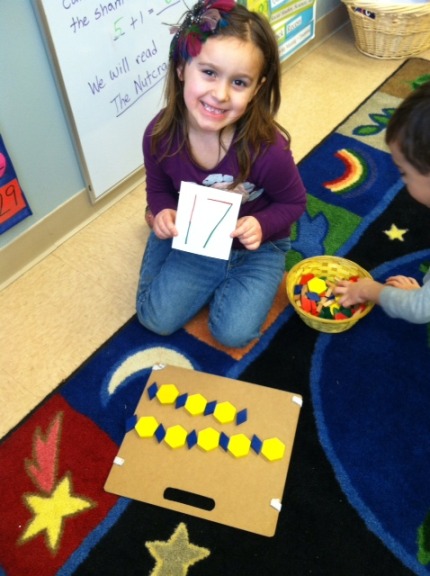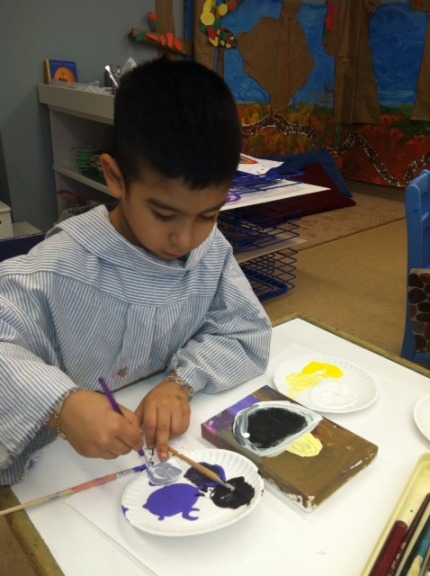 Language Arts
This month the children listened to many picture books and one chapter book about woodland animals. Favorite stories were Those Darn Squirrels, Stranger in the Woods, Little Owl's Night, and Lulu and the Brontosaurus. We acted out several versions of Goldilocks and the Three Bears, created our own story ("Goldie, Goldilocks and the Bears") and then turned it into a play that we shared with our families and the rest of the school. Each child also made their own "beginning, middle, end" woodland story, helped write several thank you notes and holiday cards, and continued to add pieces of writing to their writing workshop folders. We also reviewed strategies already learned and learned a few new strategies to help the children along in their journies toward becoming independent readers and writers:
Readers make "movies in their minds" as they read to help them follow story content; writers plan out their

stories (with beginnings, middles and ends) before they write.
Readers reread a sentence if it doesn't make sense; writers reread what they have written to make sure they have put all of their words on the page.
Readers and writers are brave; they try new and more challenging books and try to write more words independently during writing time.
In phonics we added several new words to our trick word wall and added digraphs (th, sh, wh, ch, ck), bonus letters (f,l,s) and our first three glued sounds (am, an, all) to our letter board. We practice trick words and letter board sounds several times each week. Many children are beginning to transfer what they are learning in phonics to their independent reading and writing. Please be mindful that transferring skills takes time and patience; please support your young reader/writer no matter where they are in the learning-to-read process.
There were other literacy-related activities that took place during the month. For example, the class made blueberry muffins with Judy using a recipe from one of our Goldilocks and the Three Bears books. We read a version of The Nutcracker and watched a short video clip of the ballet, then took a class trip to see a performance by local ballet students. Were were also fortunate to have several Mystery Readers join the class to share a favorite book: Jason Astle read Put Me in the Zoo, Jennifer Cottone shared The Paper Bag Princess, Taryn Sutch read The Lorax, and Jennifer Astle shared The Mitten. The class really enjoys having Mystery Readers and are quite clever at asking questions that will help them figure out who will be reading. Please let me or Susan know if you would like to read any Thursday or Friday afternoon around 2:45. We would love to have you!
Math
We spent most of our time in math this month working on number identification and one-one correspondence with numbers 11-20 and working with number combinations for numbers 0-10 (and beyond where appropriate). The children practiced finding all of the complements of 5 in several activities, then moved on to finding the complements of 10. The class created patterns with a defined number of tiles, counted forward and backward on a number line and played various number counting and sorting games. We also learned how to play several board games to practice numbers, counting dice, taking turns, sharing and following simple rules. We sent home an estimating jar with two students this month so they could fill the jar with small objects that we could first estimate and then count. The jar will be sent home with students on a rotating basis.
Art
The entire Kindergarten class worked together to plan the woodland mural that is hanging on the classroom wall. The mural served as a backdrop for our plays, both formal and impromptu, and will provide a habitat for the woodland creatures the children will create in conjunction with our January non-fiction writing unit.
Mary Merkle taught several art lessons on painting with acrylics this month. Then each child made his or her own painting on canvas as a holiday gift, wrapping it with love in homemade wrapping paper that the class created.
Given the option to choose an activity, this class almost always chooses drawing or painting. It is so much fun seeing what the children will create!
Outdoors
The K's love playing outside and use all areas of the campus. Some favorite areas are the farm yard (especially the farm house) the bike path, and "hideouts" in the taxi yard. We have done some of our math and writing work outdoors as well, using the Peace Garden benches as a gathering spot.
Thank You
Special thanks to all of the K parents for your support during my search for a new Kindergarten teacher and for being willing to help out in a mulititude of ways during the time I spent teaching in the classroom. You were there with kind words, helping hands, and always with a positive attitude. I appreciate all you do for the school, for me personally, and for your children. You are a wonderful group of parents and I feel blessed to know you!